Water Cooling Conveyor belt vulcanizer
General Details
Arphu specializes in the designing and manufacturing quality conveyor belt vulcanizers, conveyor belt maintenance materials, hot splicing tools and equipment to power plant, steel plant, cement plant, mine, port, chemical industry etc. Besides supplies the conveyor belt vulcanizing press, Arphu can also supply a series of auxiliary tools to the conveyor system.When the on-site splicing is correctly done with the portable belt vulcanizing machine, the belt joints shall be smooth, belt strength shall be reach over 90% of the original belt, through hot splicing it shall reduce the abrasion of roller and extend the conveyor and belt's working life.
Water Cooling Conveyor belt vulcanizer is ideally for splicing & repairing EP conveyor belt, rubber conveyor belt ,Nylon conveyor belt and Steel cord conveyor belt etc.

Features of our Water Cooling Conveyor Belt Vulcanizer:

1. Heating Plate: lightweight, portable, pressure and temperature uniformity;
2. Water Plate: high pressure can reach Max. 2.0 MPa (20 bars or 290 psi);
3. Cross Beam: lightweight & high tensile aluminum alloy;
4. Very fast cooling speed: Cooling down from 145°C to 60°C costs about 8-10 mins;

The configuration options are described in the following sections.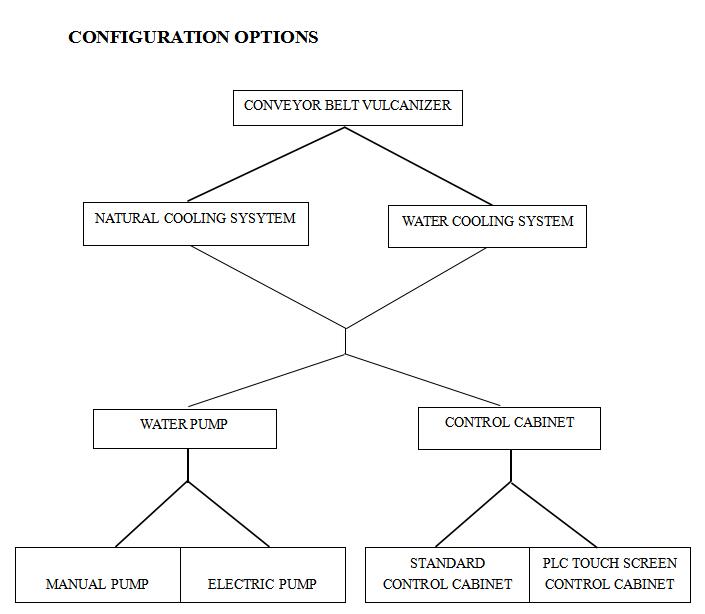 1) Heating plates of the vulcanizers are available for rhombic, rectangular and modular type (two or more sets of heating plates together).
Modular conveyor belt vulcanizer can be applied to Belt width 3200 mm maximum.
Special design and production service is offered as per requirements of clients.

1) Natural cooling system or water cooling system:
Feature of water cooling system: Rapid integral cooling fitted on both plates, belt vulcanizer could be dismantled within 5-10 minutes.

2) Manual pump or electrical pump

3) Standard control cabinet or PLC control cabinet

The conveyor belt vulcanizing press is widely used in the field of metallurgy, mining, power plants, ports, building materials, cement, coal mine, chemical industry, etc.

The machine can be customized to suit your actual splicing needs.
Technical Info
MAIN TECHNICAL PARAMETERS:
1. Vulcanization pressure: 1.0-2.0 MPa;
2. Vulcanization temperature: 145°C;
3. Difference in surface temperature of vulcanized plate: ± 5°C;
4. Heating up time ( at normal temperature to 145°C )<30 minutes;
5. Voltage: 220V/ 380V/415V/440V/480V/550V/660V, 50/60HZ, 3PHASES;
6. Temperature Controller adjustment range: 0 to 199°C;
7. Timer adjustment range: 0 to 99 minutes.
Product Range
Belt Width

Model

Heating Plate Size

Power

Dimension

PKG DIMENSION

Weight

(MM)

DLCBV

L*W*T (MM)

KW

L*W*H (MM)

L*W*H (MM)

KGS

650

DLCBV-650×830

883×820×31

10.8 KW

1140×883×585

1450*950*860

440

DLCBV-650×1000

1064×820×31

13 KW

1140×1064×585

1450*1120*860

530

800

DLCBV-800×830

883×995×31

12.7 KW

1320×883×585

1600*950*860

515

DLCBV-800×1000

1064×995×31

15.4 KW

1320×1064×585

1600*1120*860

630

1000

DLCBV-1000×830

883×1228×31

15 KW

1450×883×585

1830*950*860

600

DLCBV-1000×1000

1064×1228×31

18 KW

1450×1064×585

1830*1520*1000

715

1200

DLCBV-1200×830

883×1431×31

18.2 KW

1700×883×750

2100*950*1120

800

DLCBV-1200×1000

1064×1431×31

22 KW

1700×1064×750

2100*1120*1120

912

1400

DLCBV-1400×830

883×1653×31

20.6 KW

1950×883×750

2280*950*1170

885

DLCBV-1400×1000

1064×1653×31

24.6 KW

1950×1064×750

2280*1120*1170

1050

1600

DLCBV-1600×830

883×1867×31

22.8 KW

2150×883×795

2510*950*1170

1130

DLCBV-1600×1000

1064×1867×31

27.2 KW

2150×1064×795

2550*1120*1270

1325

1800

DLCBV-1800×830

883×2079×31

25 KW

2380×883×900

2700*950*1320

1420

DLCBV-1800×1000

1064×2079×31

30 KW

2380×1064×900

2750*1120*1310

1630

2000

DLCBV-2000×830

883×2303×31

27.4 KW

2620×883×980

2960*950*1310

1560

DLCBV-2000×1000

1064×2303×31

33 KW

2620×1064×980

2960*1170*1310

1824

2200

DLCBV-2200×830

883×2478×31

29.8 KW

2883×883×980

3160*950*1310

1720

DLCBV-2200×1000

1064×2478×31

35.8 KW

2883×1064×980

3160*1170*1310

2030