Explosion-Proof Conveyor Belt Vulcanizer
General Details
Explosion-Proof conveyor belt vulcanizer, which is specially used in explosive gases environment, it's also called conveyor belt vulcanizing press or belt vulcanizing press machine. It's vulcanize equipment and tools for repairing & splicing of conveyor belt. It suits for various conveyor belt, such as EP, Rubber, Nylon, Canvas and Steel cord belt, etc.
The anti-explosion belt vulcanizer is dependable, lightweight and portable machine, which is especially suits for the underground mine place, as well as the metallurgy, mining, power plants, ports, building materials, cement, coal mine, chemical industry, etc. Heating plates are available for rectangular shape to save space under pit.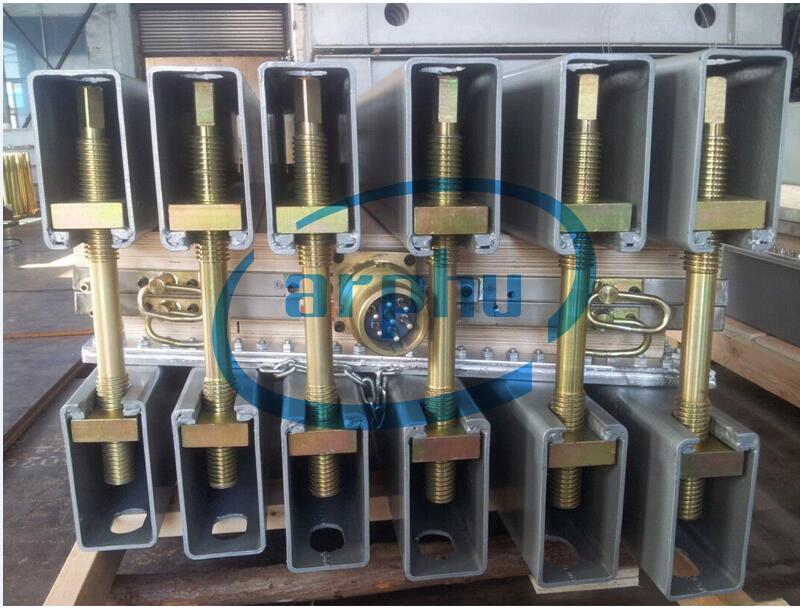 Technical Info
1. Vulcanization pressure: 1.0-2.0 MPa;
2. Vulcanization temperature: 145°C;
3. Difference in surface temperature of vulcanized plate: ± 5°C;
4. Heating up time ( at normal temperature to 145°C )<30 minutes;
5. Voltage: 660V 3 PHASES 50/60HZ;
6. Temperature adjustment range: 0 to 200°C;
7. Timer adjustment range: 0 to 99 minutes;
8. Temperature adjusting range: 0-200°C.

EXECUTIVE STANDARD: MT/T978-2006 EXPLOSION-PROOF BELT VULCANIZING PRESS


Product Range
LBD series Explosion-proof type belt vulcanizer is OEMED by the requirements of customers, belt width from 800 mm to 3000 mm.
MODEL

Belt Width

Specification

Heating Plate Size

Power

Dimension

MM

(L×W) MM

(L×W×T) MM

KW

(L×W×H) MM

LBD-650

650

650*830

883*820*31

10.80

1140×830×585

650*1000

1064*820*31

13.00

1140×1000×585

LBD-800

800

800*830

883*995*31

12.70

1320×830×585

800*1000

1064*995*31

15.40

1320×1000×585

LBD-1000

1000

1000*830

883*1228*31

15.00

1450×830×585

1000*1000

1064*1228*31

18.00

1450×1000×585

LBD-1200

1200

1200*830

883*1431*31

18.20

1700×830×750

1200*1000

1064*1431*31

22.00

1700×1000×750

LBD-1400

1400

1400*830

883*1653*31

20.60

1950×830×750

1400*1000

1064*1653*31

24.60

1950×1000×750

LBD-1600

1600

1600*830

883*1867*31

22.80

2150×830×795

1600*1000

1064*1867*31

27.20

2150×1000×795

LBD-1800

1800

1800*830

883*2079*31

25.00

2380×830×900

1800*1000

1064*2079*31

30.00

2380×1000×900

LBD-2000

2000

2000*830

883*2303*31

27.40

2620×830×980

2000*1000

1064*2303*31

33.00

2620×1000×980

LBD-2200

2200

2200*830

883*2478*31

29.80

2830×830×980

2200*1000

1064*2478*31

35.80

2830×1000×980